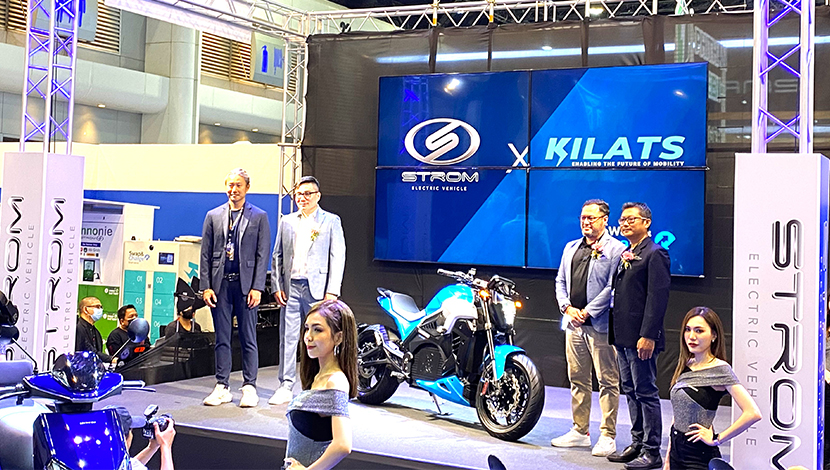 "KILATS Partners STROM to launch Battery Swap in Thailand"
KILATS Partners with STROM THAILAND To Deploy "SWAP&CHARGE" Universal Battery Swap In Thailand's Promising Electric Motorcycle Market 
KILATS PTE LTD ("KILATS"), a Singapore company that produces electric motorcycles within a universal battery swap network, has finalised its first partnership with STROM THAILAND CO., LTD ("STROM") to make available the KILATS SWAP 2.0 platform under STROM's "SWAP&CHARGE" brand in the Kingdom.
KILATS SWAP 2.0 is a bike + battery swap + business platform that offers quality, versatility and inclusivity in all the areas it deploys, and is specifically targeted to tackle the key issues hindering electric motorcycle adoption in Southeast Asia. The main thrust is to close the gap between motorcycle user expectations and electric mobility experiences in a true open mobility environment. In addition to STROM, KILATS looks to add further partners in Thailand for its unique offering.
STROM is a fleet owner and has been providing electric motorcycles to businesses and consumers alike since 2015. From its beginnings in battery packing through OSKA THAILAND CO., LTD ("OSKA"), STROM has grown into one of Thailand's prominent players with a range of electric motorcycles serving different market segments.
The partnership also forms part of a wider EV Ecosystem put together by STROM and includes several key players in the value-chain that combined can change the landscape and experience of EV 2-wheelers in Thailand. Other partners include Thai conglomerate TTA Group, Bangchak Petroleum through their Winnonie EV network, and Musashi Seimitsu Industry – a leading powertrain and engineering company corporation from Japan.
Under the SWAP&CHARGE Brand, STROM will offer the GIBBON electric motorcycle with swappable 48V batteries at the SWAP&CHARGE stations to be located in key areas of Bangkok. The GIBBON electric motorcycle is a design collaboration between KILATS and the Red-Dot 2022 award-winning MOLINKS Group. The GIBBON is constructed using motorcycle parts that are robust for Thailand's riding conditions, making the ride experience similar to that of traditional petrol motorcycles.
"STROM and KILATS as a partnership have a formidable offering for the Thai EV 2 wheel market" says KILATS CEO Vincent Yap. "We have used the lessons learned in Indonesia to develop a product that is scalable on a regional basis, and for Thailand we are honoured to be part of STROM's network".
"KILATS SWAP 2.0 is a very powerful solution that is an ideal and timely fit for Thailand's EV motorcycle market" added STROM Managing Director Lt. Col. M.R. Bhiranupong Bhanubandh, citing the need for quality and versatility as driving forces to accelerate EV adoption. "With the tools and technical know-how embodied in KILATS SWAP 2.0, STROM can directly offer a new way forward to its large pool of businesses and relationships that are primed for transformation to electric mobility."
The partnership extends beyond KILATS SWAP 2.0 and also includes and an agreement to localise assembly and battery packing through STROM's and OSKA's facilities respectively. This agreement will also see export opportunities to other markets KILATS is deploying into.
Vincent adds "There are regional ambitions for KILATS to be a key part of the ecosystem in EV motorcycles and with STROM's value-added facilities, we are set to make a meaningful impact not just in Thailand, but in Southeast Asia."
Lt. Col. M.R. Bhiranupong concurs, "Thailand has a well-established motorcycle supply chain industry with solid regional links. Working with KILATS not only extends STROM's capabilities but also has the potential to put Thailand at the forefront of EV in the region not just for adoption, but also for exporting quality products and versatile key components."

STROM, together with TTA and partners from Thailand, Singapore, and Japan announce a partnership to drive an EV ECOSYSTEM in Thailand for the first time. This partnership and two new electric motorcycle models and battery–swapping stations will also be unveiled at the 2023 Motor Show. 
STROM, together with TTA and partners from Thailand, Singapore, and Japan announce a partnership to drive an EV ECOSYSTEM in Thailand for the first time. This partnership and two new electric motorcycle models and battery–swapping stations will also be unveiled at the 2023 Motor Show.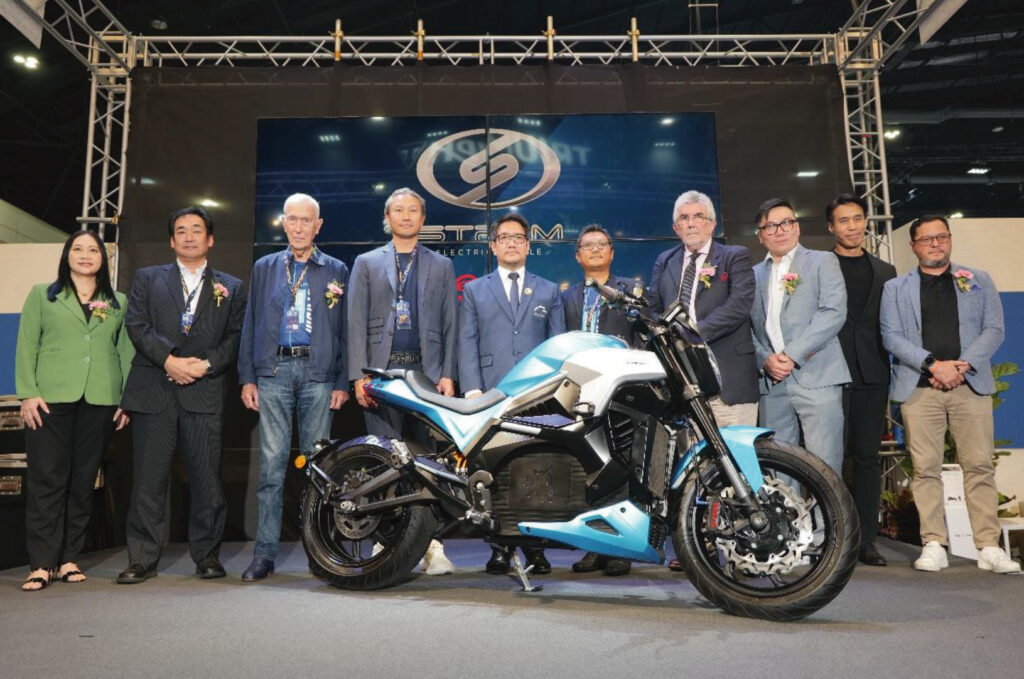 Bangkok – March 21, 2022: Strom (Thailand) Company Limited, a leader in electric vehicle technology in Thailand, joins forces with Thoresen Thai Agencies Public Company Limited, a strategic investment company in Thailand.
Further, in collaboration with Winnoni Co., Ltd., a provider of battery swapping stations (Swap Station) with the largest network in Thailand, KILATS Co., Ltd. from Singapore, a leader in low- voltage electric motorcycle technology, and Mu Sashi Seimitsu Industry Co., Ltd., a specialist in the design, development and production of differential gears will drive the electric vehicle ecosystem (EV ECOSYSTEM) in the electric motorcycle industry in Thailand.
These partnerships and collaborations reinforce the commitment of STROM and TTA to become the leaders in electric vehicles in Thailand and the ASEAN region.
STROM also unveils two new models of electric motorcycle: the STROM MONKEY MNK-250L2 and the STROM BULL BL-1000L at the 2023 Thai International Motor Show.
Lt. Col. M.R. Bhiranupong Bhanubandh, President of Strom (Thailand) Co., Ltd., revealed, "At Motor Show 2023, STROM will launch two new electric motorcycle models that have been developed with features suitable for Thai users, namely the STROM MONKEY MNK-250L2 and the STROM BULL BL-1000L. The STROM MONKEY was developed using information and experience obtained from actual market trials for more than 3 years to produce a vehicle that responds instantly to the rider's use. The STROM BULL BL-1000L is the ultimate electric sports motorcycle that provides tremendous power from Thailand's first 10KW motor in an eye- catching sleek and sporty execution
Moreover, Mr. Dom Hetrakul, a major figure in the big bike industry for more than 20 years, of D.O.M. (Delight of Motorcyclist: Professional Motorcycle Maintenance & Services), is Strom's partner in the STROM MODIFICATION CENTER, and has come to help create a specific identity for this new bike model by presenting its outstanding personality more clearly to big bike users in the market"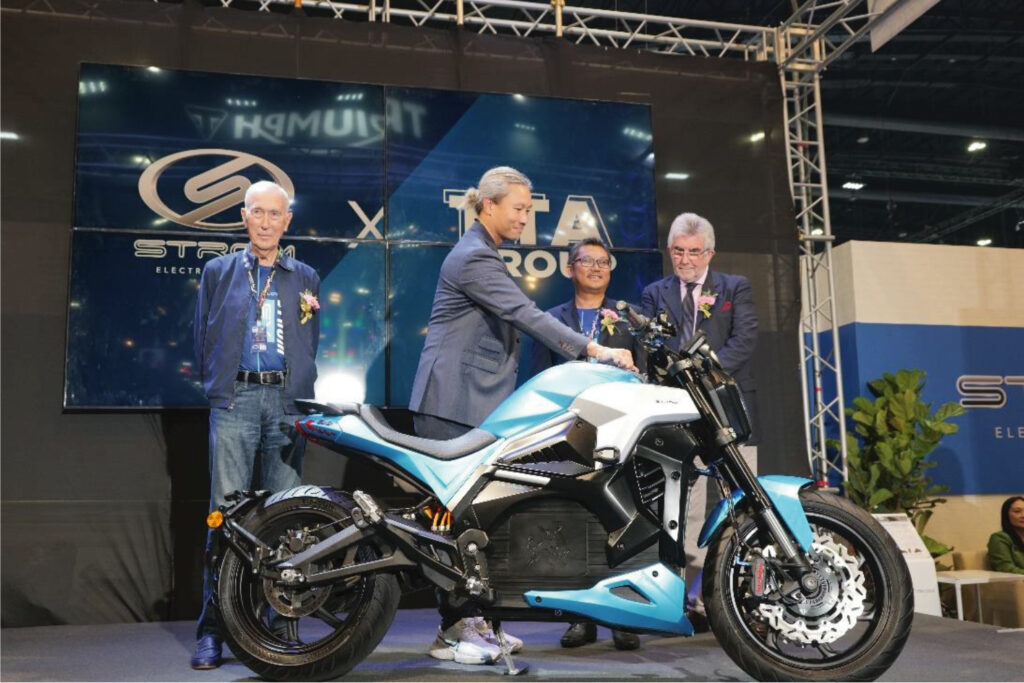 Mr. Chalermchai Mahagitsiri, the President and CEO of Thoresen Thai Agencies Public Company Limited (TTA), stated, "TTA has been partnering with STROM for some time. STROM, which has helped TTA design and produce electric motorcycles for Pizza Hut and Taco Bell riders, sees STROM's potential as well as many other opportunities, to grow the electric vehicle market in Thailand. Therefore, TTA decided to invest 50% in STROM through its subsidiary company – V Ventures Technologies Co., Ltd. TTA and STROM have the same vision and goals, namely to create an electric vehicle ecosystem (EV ECOSYSTEM) for Thai society by developing true energy-saving, cost-effective, and environmentally friendly electric motorcycles in Thailand with customisable features that match the lifestyles and requirements of Thai consumers. TTA and STORM aim to be the leading Thai brand and expand to other markets in Southeast Asia in the future."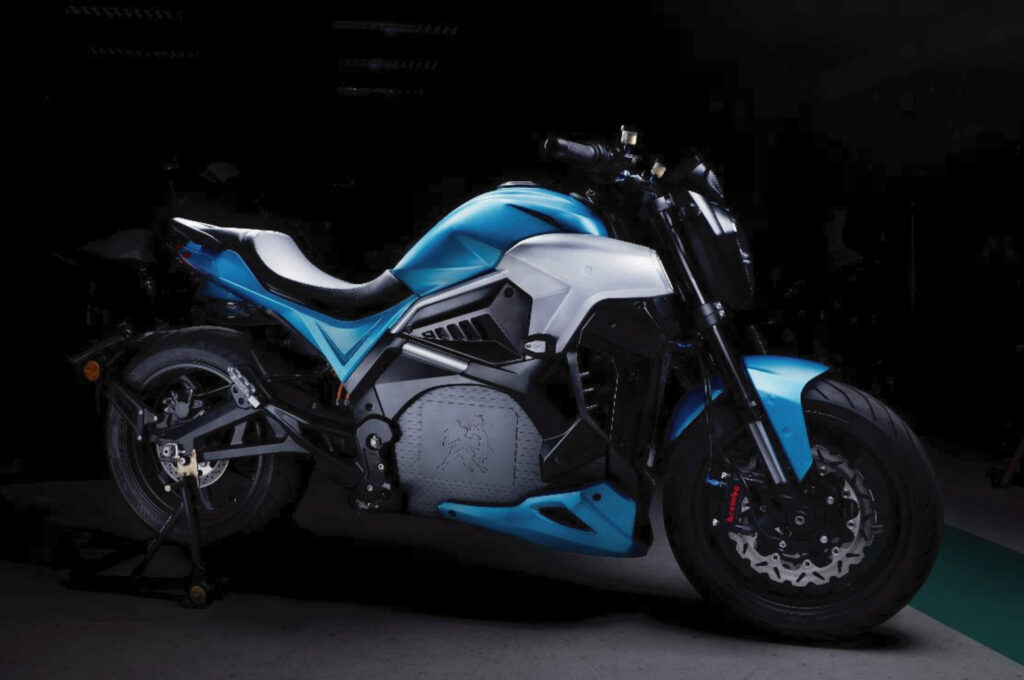 Lt. Col. M.R. Bhiranupong Bhanubandh added, "There are two concepts in creating an EV ecosystem (EV ECOSYSTEM) for electric motorcycle users. The first one is the 72V-based technology developed according to the STROM principle, and the second one is 48V low voltage technology for other electric motorcycles. STROM has joined hands with its partners to design the infrastructure needed for electric motorcycles, including:
• The development of battery swapping stations for riders was achieved in cooperation with Winnonie Co., Ltd., a battery swapping station provider with the largest network in Thailand and the developer of an automatic battery switch based on 72V for STROM electric motorcycle users. Winnonie battery swapping stations will be installed at Bangchak gas stations across the country in order to serve EV motorcycles equipped with switchable Battery User Support (SWAP) consistent with STROM's 72V-based technology and managed on the WINNONIE platform. Winnonie plans to expand to 100 service points this year. Today, Ms. Pornrerdee Udarwudhipong, Managing Director, Winnonie Company Limited, attended the launch event as an honoured guest.
• In partnership with KILATS from Singapore, the goal for other low-voltage (48V) electric motorcycles is to exchange technology with fully automatic battery-switching cabinet systems. To support all 48V low-voltage electric motorcycle technologies on the market, it will include both a vehicle developed in conjunction with STROM and a network of automated battery swaps that will be available later this year. Mr. Vincent Yap : CEO KILATS GROUP and Mr. Sheldon Lee : Co-Founder and Executive Director KILATS GROUP also attended the event as an honoured guest.
In the field of motor and drive technology development, cooperation was achieved with global Tier 1 auto parts company Musashi Seimitsu Industry Co., Ltd. (Musashi Seimitsu Industry), which specialises in the design, development, and production of gear sets. STROM and Musashi are in discussions to bring a new electrification solution to the motorcycle market that combines high performance and reliability. Combining STROM's superior expertise and experience as an electric motorcycle manufacturer with Musashi's EV Drive-Unit, which combines a gear reducer and a motor with excellent torque characteristics, thus enabling them to bring new power solutions to the market with outstanding durability and energy saving. So, electric motorcycles will be able to run 3 times longer than conventional electric motorcycles to be used as a basic propulsion unit for STROM's electric motorcycles in the future. Mr Toshihisa Otsuka, Managing Executive Officer and CEO of the Asia region, joined as a witness.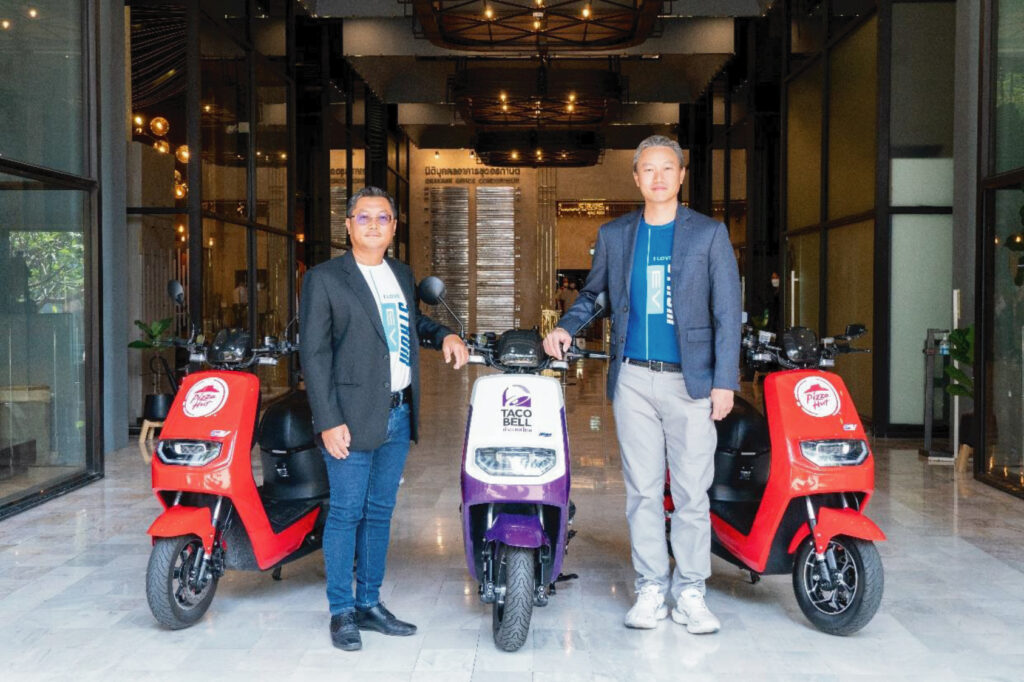 Mr. Chalermchai Mahagitsiri said, "With the idea of creating a fully integrated electric motorcycle ecosystem for the first time, it is expected that a great number of electric motorcycle users will attend STORM's booth."
For those who are interested in ecological information (ecosystem) about all-electric motorcycle users and car details with promotions, you can visit STROM's booth, booth number …… at the 44th Bangkok International Motor Show at Challenger Hall 1-3, IMPACT Muang Thong Thani from March 22, 2023 – April 2, 2023. You can follow up for more news at www.STROMthailand.com and fan page at www.facebook.com/STROM.EV.
About STROM
Strom Electric Vehicles is Thailand's foremost leader in the technology and production of electric vehicles (EVs). The company is part of the Oska Battery Group, which has been developing and producing batteries for consumer IT, electronics, golf carts, and industrial applications as well as military applications for almost 27 years. For more information, contact Strom (Thailand) Co., Ltd. at www.stromthailand.com or www.facebook.com/STROM.EV.
About TTA
Thoresen Thai Agencies Public Company Limited, or TTA, is a strategic investment holding company that is listed on the Stock Exchange of Thailand, with an investment policy to achieve growth through a balanced portfolio that is diversified both locally and internationally. Included in its current business portfolio are shipping, offshore services, agrochemicals, food & beverage and investment.
For more information, please contact:
Panipa Pornpisarnsak E-mail: cherry@oskabatt.com MB: 083-999-4446
Natasa Urcharoenngan E-mail: natasa_u@thoresen.com MB: 083-492-2242